Sunday Funday as we honor "Jack" with a Hero WOD.
Barbells For Boobs Thanks to everyone who came out Saturday and who fundraised again for the B4B cause this year!
SUNDAY Partner Conditioning Modified "Jared" 4 Rounds Of: • Run 800 meters • 30 Pull-ups • 50 Push-ups
* Partners will alternate every 200m on the run, and split the remainder of the reps each round.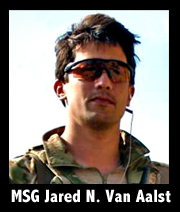 U.S. Army Master Sgt. Jared N. Van Aalst, 34, of Laconia, New Hampshire, assigned to the U.S. Army Special Operations Command, based in Fort Bragg, North Carolina, died Aug. 4, 2010, in Kunduz Province, Afghanistan, of wounds suffered while his unit was conducting combat operations.
He is survived by his wife, Katie Van Aalst; his daughters, Kaylie and Ava; and a posthumous son, Hugh Jared.