Sunday Funday as we honor "Zeus" with a Hero WOD.
Barbells For Boobs Saturday, October 8: CrossFit Amplify will be hosting our Barbells For Boobs fundraiser event once again this year. INFO HERE.
SUNDAY Partner Conditioning Modified "Zeus" 3 Rounds For Time: • 30 Wall Ball Shots (#20/14) • 30 Sumo Deadlift High Pulls (#75/55) • 30 Box Jumps (24"/20") • 30 Push Press (#75/55) • Row 30 Calories • 30 Push-ups • 10 Back Squats (Go Heavy)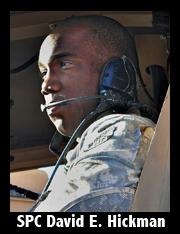 U.S. Army Spc. David E. Hickman, 23, of Greensboro, North Carolina, assigned to the 2nd Battalion, 325th Airborne Infantry Regiment, 2nd Brigade Combat Team, 82nd Airborne Division, based in Fort Bragg, North Carolina, died on Nov. 14, 2011, in Baghdad, Iraq, from wounds suffered when insurgents detonated an improvised explosive device near his vehicle.
He is survived by his wife, Calli; parents, David and Veronica; and brother, Devon.